The spectacular HortiASIA 2014, the international tradeshow for smart horticultural technology and innovation during May 8-10, 2014 at BITEC Bang Na
Horti ASIA 2014, theInternational Tradeshow for Horticultural and Floricultural Production and Processing Technologywas accomplished by May 10, 2014 at BITEC. With the inspiration from Horti Fair in the Netherlands, Horti ASIA featured countless booths ofequipment, materials, technologies and innovations for planting in the tropical zone from countries all around the globe, such as the Netherlands, Taiwan, China, Germany, Myanmar and South Korea. There were around 5,000 visitors from a variety of professions and interests,for instance, agriculturists, horticulturists, academics, agricultural investors, and traders of agricultural materials, equipment and chemicals, as well as government officials. Horti ASIA is, therefore, a must exhibitionbecause it offers visitorsnew knowledge platformand opportunities to select quality products that help improve their productivity.
In addition, there are more 500 foreign visitors from ASEAN countries such as Malaysia, Indonesia, Vietnam, Myanmar, and so on who recognize the capability of Thailand as a leading agricultural research hub in the region and plan to visit the tradeshow.  Visitsto famous farms, and gardens of the country were provided for foreign participants in order for them to collect information and prepare for thetrade liberalization in 2015.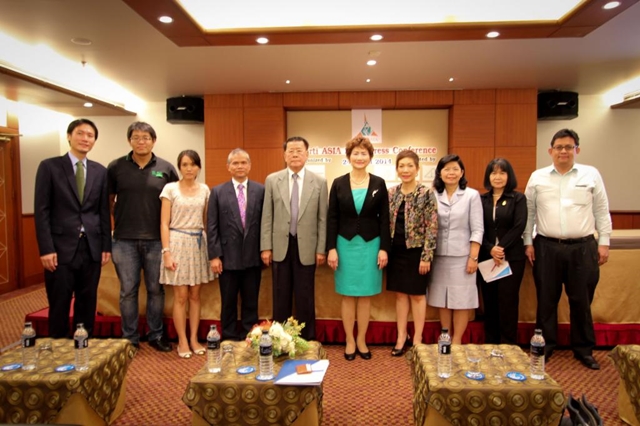 In the event, visitors could find technologies and innovations from foreign countries with a wide range of pricing that suits every size of investment. Some of the exhibits include, for examples, cropping techniques to produce desired yields, irrigation systems to save water, cultivation techniques using more natural substances to avoid residues in vegetables and fruits, and Green House, or a systemic planting house which is currently in a great need to be managed since the climate in Thailand and neighboring countries changes dramatically affecting nature,agriculture, and particularly, horticulture that is highly sensitive to environment.
Apart from the state-of-the-art exhibition, academic seminars were another highlight. It was a wonderful opportunity to gather all important activities here in one event so that horticulturists who normally have an obligation to care for the plants and less time to reach for the information of their interests  join the event that helps them save time and cost while provides everything they need for the successful careers. Horti ASIA 2014 also featuredproducts of thePre-and-Post Harvesting Innovation, for example technologies for culturing seeds and tissues,materials for quality cultivation, irrigation systems, planting house systems, fertilizers and nutrients, pest protection, and harvesting technologies. In addition to innovative horticultural products, meeting potential entrepreneurs to increase trading channels wasanother advantage from attending Horti ASIA.
Mrs. LaddaMongkolchaivivat, General Manager of VNU Exhibition Asia Pacific Co., Ltd. said "This year,Horti ASIA is supported by a variety of agencies, both public and private. With the commitment to driving the country to be the hub of plants, vegetables, fruits, flowers and orchids of ASEAN and Asia respectively, we are organizing publicity to draw target entrepreneurs and buyers in several countries including Taiwan, Vietnam, Indonesia, Myanmar, and China. We also hold filed activities to the different regions of Thailand byconducting seminars in four provinces: Nakorn Si Thamarat, Ratchaburi, Chiang Mai and UdonThani to study and understand how to manage crop, problems, and needs of farmers in each region and traders and investors today. We would like to improve thisHorti ASIA 2014 event to reach a new standard and to satisfy all visitors even more.
In the event, there were a technology expo and innovationsfrom more than 110 leading companies from over 20 countries for garden plants that stretch from the initial planting, caring, harvesting, and post-harvest management technologies, such as technologies for culturing seeds and tissues, materials for quality cultivation, irrigation systems, planting house systems, fertilizers and nutrients, pest protection, packaging, and transportation to consumers. There were also6national pavilions fromThailand, the Netherlands, South Korea, China, Taiwan and Germany covering the space of over 4,000 square meters, especially in the part of Thailand thatis supported by the Ministry of Agriculture and Cooperatives through theDepartment of Agriculture Extension, the Department of Agriculture and the Marketing Organization for Farmers. Not only the product showcasing but also many interesting conferences were held in the event. This year, VNU together with leading journals in agriculture such as KehaKaset (Home Agricultural Magazine) and the Horticultural Society of Thailand hold seminars on many topics with expert speakers from Thailand and abroad delivering lectures throughout the event."
"Next year, VNU is going to hold AGRI Food Business Week Asia during 11 – 19 March 2015 at Bangkok International Trade & Exhibition Centre (BITEC). This exhibition includes 3 tradeshows which are VIV Asia,the largest Asian trade show for the international Feed to Meat industry during 11 to 13 March 2015, Horti ASIA,the international tradeshow for technologies and innovations in plants, vegetables, fruits, flowers and orchids in Asia and AGRI – ASIA 2015,the exhibition of agricultural machinery, technology and innovation in Asia during 17 – March 19, 2015. VNU expects that all 3 will be the showcases of technology and innovation in agriculture – livestock that helps drive the industry and develop the knowledge base to attending businessmen and enhance Thai farmersperformance to meet international standards,"said Mrs. Ladda.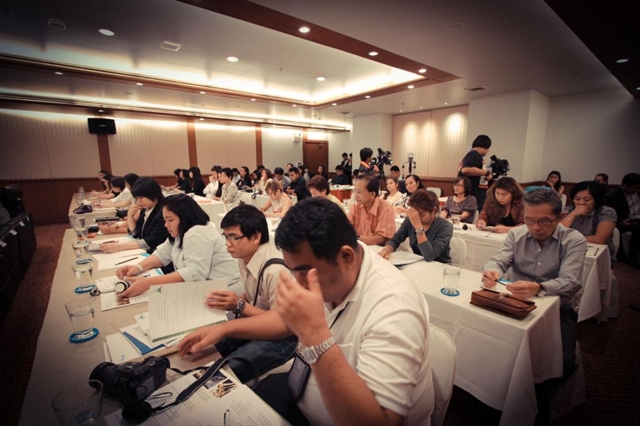 Mrs. SupawanTeerarat, vice-president for strategic and business development of the Thailand Convention & Exhibition Bureau (TCEB) said that "Industrial agriculture is one of Thailand's major industries which TCEB, as a government agency, recognizes the importance of promoting and developing this industry to sustain continuous growth because agricultural indusry is included in the national agenda supported by the government. For this reason, Horti ASIA 2014 is going to be the first and most comprehensive tradeshow of plants, fruits, vegetables, and flowers hosted by Thailand to push the country as the hub of this industry in Asia.
For 3 years in a row, TCEB has given support to hosting Horti ASIA in terms of devising proactive international market strategies and increasing foreign participants through a quality campaign called "Connect Business" that encourages visitors to participate in business matching between buyers and sellers. TCEB also supports the "Journalist Program" by inviting journalists from leading foreign agricultural publications to join the program to create international publicity. Journalists from Thailand are welcomed as an important mechanism for domestic publicity and for boosting the domestic agricultural sector.  Additionally, TCEB supports seminars in four provinces: Nakhon Si Tammarat, Chiang Mai, Ratchaburi and UdonThani. Horti ASIA is a first class seminar full of potential to reinforce the confidence in the international exhibition industry of Thailand as the center of agriculture in ASEAN."