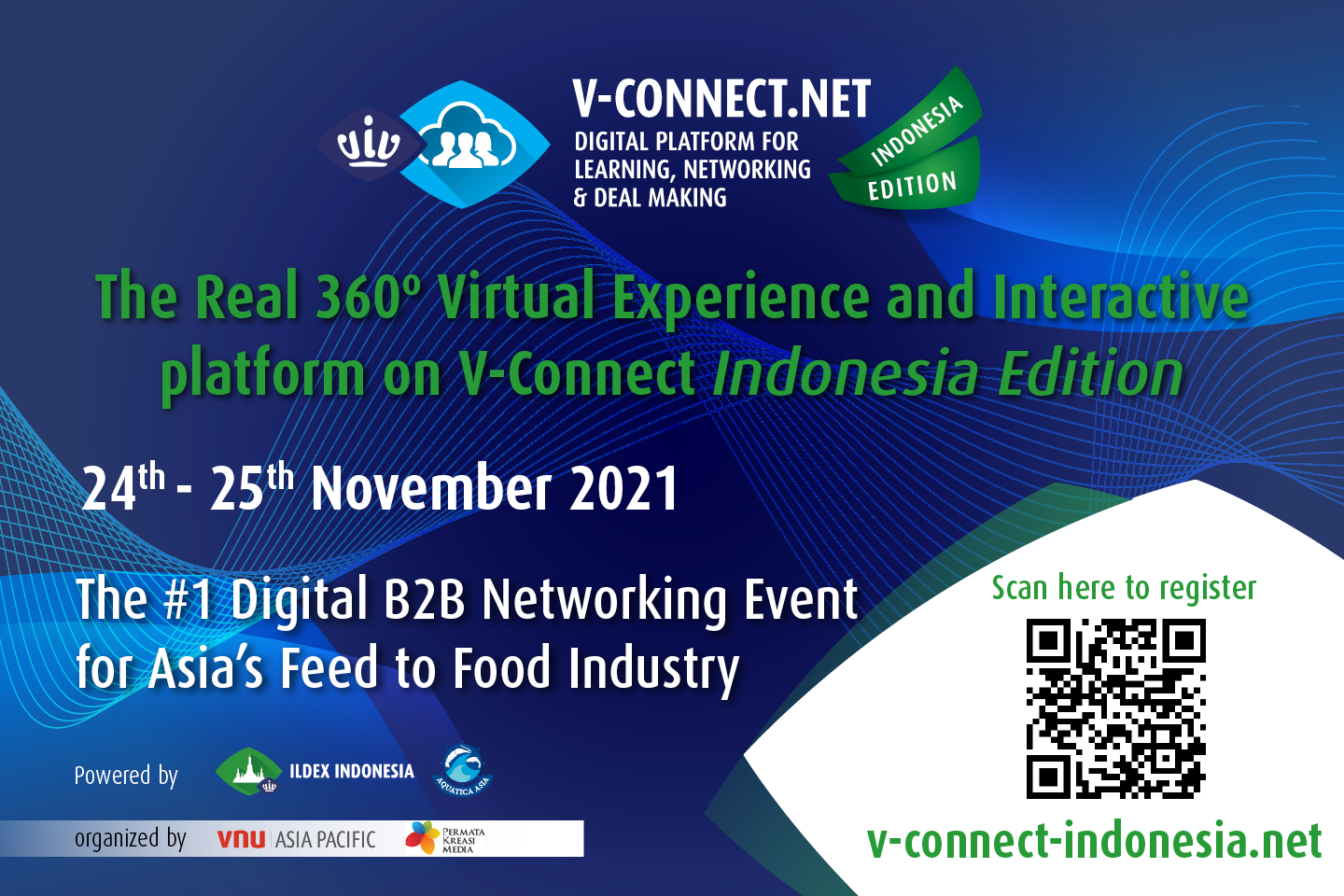 On Nov 8, 2021, VNU Asia Pacific (VNU), together with Permata Kreasi Media (PKM), is delighted to organize a virtual event, Feed-to-Food Industry for ASIAN market, "V-Connect Indonesia Edition." The event will be held on 24th-25th November 2021, only on the digital platform.
"V-Connect" platform is a digital platform developed by VIV and ILDEX team to enable in-person B2B networking and to provide a progressive web-based, smartphone-supported online ecosystem that optimizes the connection and business opportunities for ASEAN's Feed-to-Food Industry participants. This digital event will be held on the designated platform of ILDEX Indonesia exhibition, and the pre-event appointment is via the registration portal. "V-Connect Indonesia Edition" aims to offer businesses a reliable, responsive, and highly actionable platform through which to grow as we continue to adapt and prosper, harnessing advanced technologies globally.
"V-Connect Indonesia Edition," the experts' platform for ASEAN's Feed-to-Food Industry to meet, network, and make deals, is organized by ILDEX Indonesia and Aquatica Asia team. On the platform, you can e-meet with our leading companies from Livestock Production, Animal Health & Nutrition, Breeding & Genetics, Feed mill & Storage, Hatchery & Incubation, Animal Feed & Farming, Automated Processing and also the aquaculture/Fisheries businesses from local and international companies such as Japfa Comfeed Indonesia Tbk, Farmsco Feed Indonesia, PT. Biochem Zusatzstoffe Indonesia, UPEC, Amandus Kahl, Mixtron, SKOV, Sonac, Clearwater, De Mark, Famsun+Huali, Hexie Group, Interheat, San Heh, Siam Water Flame, and more.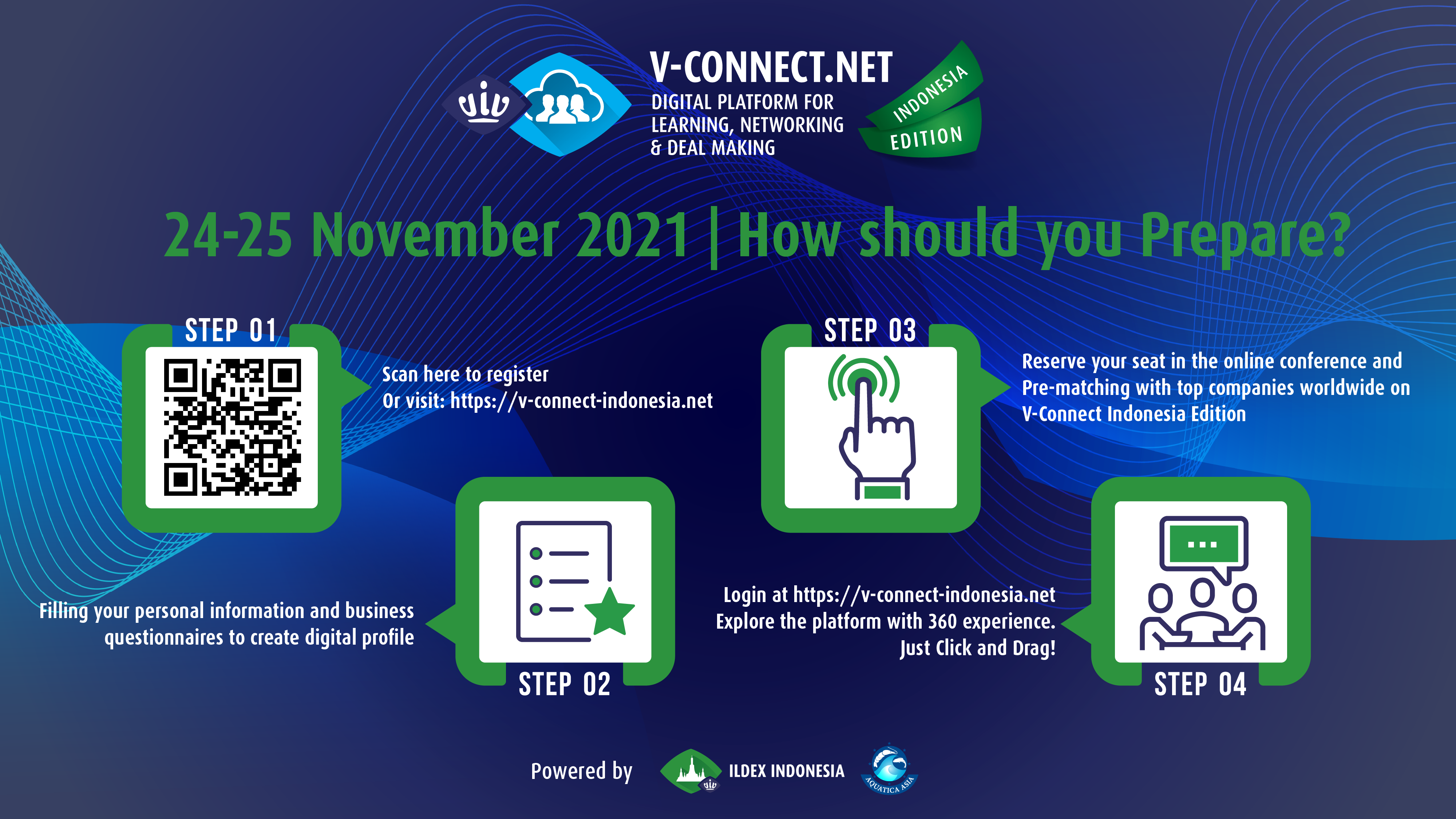 Register now for FREE >>> https://v-connect-indonesia.net/register
Highlights of the Platform Features:
1. Register Now to Start Your Journey
Real 360° virtual experiences. Fast-track buttons to access needed services easily in one click.
2. Beyond the Platform with User Friendly Features
Produces clicking sounds to keep you focused. Showing the directory for your needed services.
3. The Booth's Master/Exhibition Hall
Use filters to find the best exhibitions that match your interests. Direct yourself to other areas (Conference Halls, Lobby icons) with one simple click at the right panel.
4. The Conference Hall
Select your favorite topics or speakers. Add them to your calendar and enjoy the informative sessions with automatic reminders on your email.
5. The Networking Lounge
Expand the network of contact and generate leads and business opportunities
6. The Information Center
Our help desk will be on standby to answer your inquiries and connect easily with us via WhatsApp or Email!
Be Our Buyer and Enjoy the Extra Benefits
V-Connect Indonesia looks for potential buyers on our digital platform to do business with our top exhibitors. The Buyer Program consists of different categories of profiles, all of which belong to the C-level or higher companies' ranking, from Influencer > CEO > Buyer, etc… The application goes through a strict consideration before being accepted for the Buyer pass. The potential buyers should have the business involved in the Livestock industry: Pig, Poultry (Broiler), Poultry (Layer), Aquaculture, Farm Production, Feed Ingredients & Additives, Animal Health, FeedTech & CropTech, Meat Processing, Breeding & Hatching, Egg processing & Handling, and/or Waste Management.
V-Connect Buyer Benefits:
– Meet a wide range of leading international brands and suppliers
– Connect directly with decision-makers who are actively looking for win-win partnerships
– Discover the latest livestock solutions and technologies via an informative conference program addressing the global trends
– All the meetings and services are free with unlimited accessibility
If you meet our criteria and are looking for business opportunities to expand your product in the Asian market or find new business partners/suppliers in Indonesia and ASEAN, apply to our 'Buyer Program' now and enjoy the maximum benefit Free of Charge.
Filling this form to apply for our buyer program >> https://cutt.ly/7R7vU29
Save the Date: 24th-25th November 2021 from 10:00 – 18:00 hrs. Only on Digital Platform
Keep updated on the Conference Highlights and register now to join us on V-Connect Indonesia Edition!
For more information, please visit https://v-connect-indonesia.net/ or email at [email protected]
#####
Project Management contact: Mr. Supanat Tre. ([email protected]) | International
Mr. Gilang S. ([email protected]) | Indonesia
Buyer Registration contact: Mr. Khanh Pham ([email protected])
Media/Press contact: MarCom Team of VNU Asia Pacific at [email protected] 
---