VNU Asia Pacific Co., Ltd. in association with True5G, Digital Economy Promotion Agency (depa), the National Electronics and Computer Technology Center (NECTEC) and Thailand Convention and Exhibition Bureau (TCEB) Pushes Forward the Value of Industry 4.0 with 5G Technology.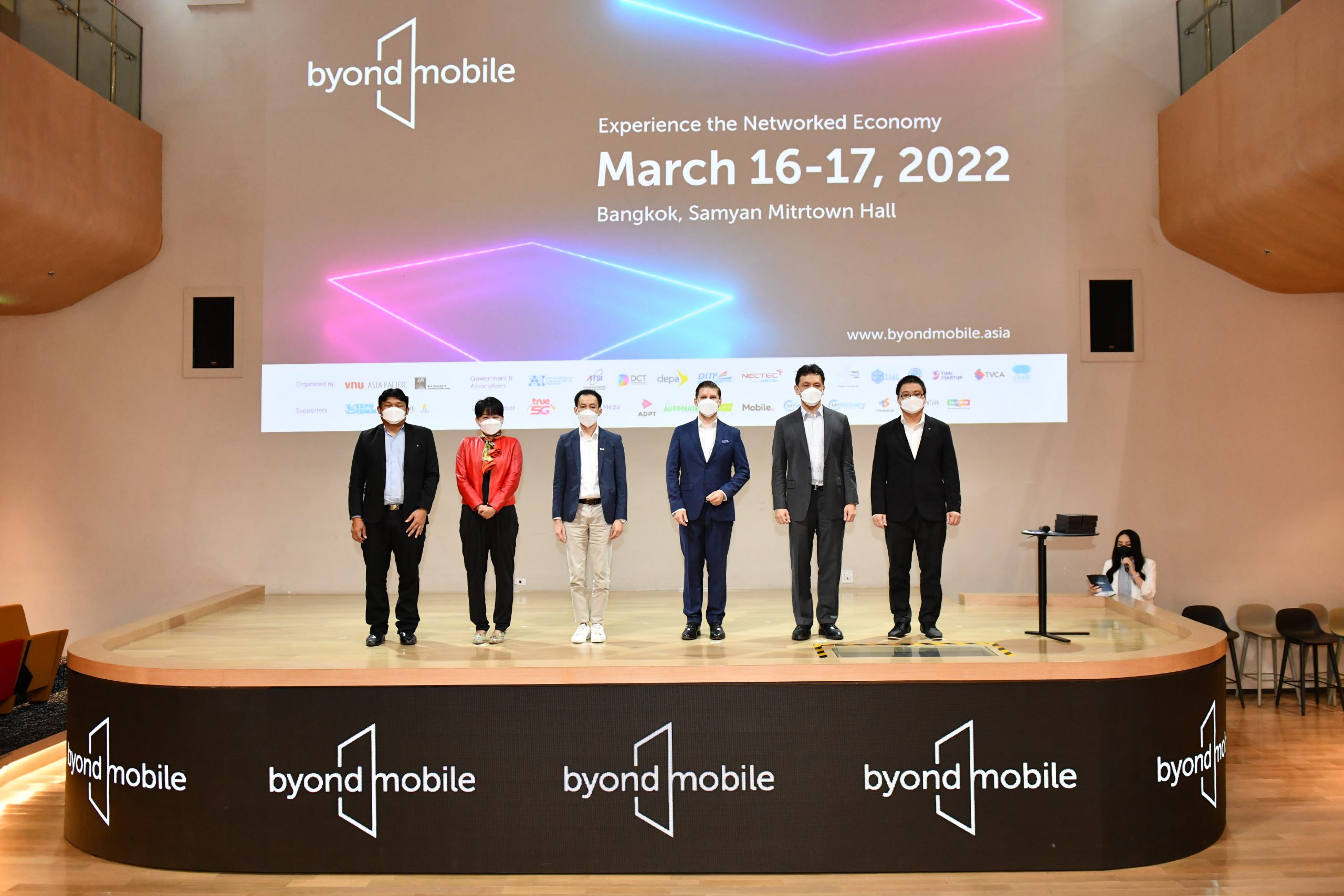 VNU Asia Pacific Co., Ltd. together with its partners on wireless technology forefront led by True5G, Digital Economy Promotion Agency (depa), the National Electronics and Computer Technology Center (NECTEC) and Thailand Convention and Exhibition Bureau (TCEB) jointly organized a press conference for BYOND MOBILE, a technology innovation exhibition on the business impact of next-gen mobile networks in the South East Asian region. The full-fledged event is scheduled to take place during 16 -17 March 2022 at Samyan Mitrtown Hall, Bangkok under the theme "The Networked Economy: Unlocking the potential of the IoT era", covering topics like Industry 4.0, Smart Manufacturing, Future Mobility and Smart Cities.  At the press conference, the significance of 5G development in Thailand was discussed as this technology will considerably play an essential role in industrial arena whereas the governmental sector has placed an importance on 5G technology in order to move Thailand toward regional pioneer in the future.
"Digital technology has affected the business sector as well as our daily lives in particular during the COVID 19 pandemic. A competitive edge mobile network is the key fundamental for Thailand to attain as the leader of ASEAN region" said Mr. Chiruit Isarangkun Na Ayuthaya, President of Thailand Convention and Exhibition Bureau (TCEB). He further cited that "As the public agency, TCEB has continuously implemented a strategic policy on developing numbers of domestic industries by supporting an organizing of expositions and conferences and, with no doubt, this digital industry event. According to the digital development index, the Asia Pacific region will account for 40% of the world's connectivity within the next 5 years with Southeast Asia as the growth engine of this region".
Mr. Tawatchai Lerksumrand, Associate Director, Mobile Business and 5G Service Innovation, True Corporation Plc. said that 5G technology is a key force to drive the economy and society of Thailand towards the 4.0 era. True Group as the leader of digital telecommunication infrastructure has developed the True5G intelligence network, offering faster and stronger signals with 7 frequency bands, the most complete spectrums in Thailand, and nationwide coverage. We also focus on building a 5G ecosystem to connect all vertical partners together by joining with leading local and international alliances to create solutions and develop real use cases that could be applied to all industries in order to stimulate the use of 5G technology for maximum benefits of the nation. By supporting the Byond Mobile Exhibition, we believe this will be another opportunity for leading organizations and stakeholders to jointly support the growth of 5G in Thailand in terms of knowledge, 5G community, and partnership in various dimensions that will drive industries and strengthen Thailand's potential to grow and have a competitive edge in the global arena.
Mr.Heiko M. Stutzinger Managing Director of VNU Asia Pacific Co., Ltd. stated that "BYOND MOBILE is created under the cooperation of E.J. Krause & Associates, Inc. (EJK), a worldwide leader in exhibition and conference management, and VNU Asia Pacific Co., Ltd. in signifying the importance of 5G advancement with an aim to set this exhibition as the center of the networked economy for Asia.  BYOND MOBILE will serve as an economic community with readiness to transform and strengthen the industry, escalating users' experiences, pursuing a transition in the business sector, and making the most of Big Data." He added that "BYOND MOBILE is a platform to gather people in digital eco-system and 5G technology industry, a venue for business matching between manufacturing firms and buyers, a stage for global startup businesses to showcase modern technology to the region as well as an exchange of expertise among international specialists and we have chosen Thailand as the center of this gathering."
Also during the press conference was a panel discussion under the topic "The value of 5G goes beyond just faster internet and how 5G becomes a major force in facilitating new products and services to emerge in industries such as Agriculture, Healthcare, Manufacturing, and Mobility" with the guest panelists from Artificial Intelligence Entrepreneurs Association Thailand (AIEAT), Amata Corporation, Huawei Asia Pacific, Rohde & Schwarz (Thailand), 5G Catalyst Technologies and True 5G, rendering their contributions on various business perspectives.
In accordance with the Government Action Plan on Promoting Thailand 5G Technology for the Year 2023 – 2027, the 5G network is aimed to cover 98 percent of the population by 2027, increase economic value under 5G technology by 6.6 percent of GDP, and with not less than 7,000 SME entrepreneurs to apply such technology. It explicitly indicates that 5G service has covered many areas of the country, making Thailand home to a modern digital network and a venue for the BYOND MOBILE Fair at the beginning of next year. Participants can expect to meet with leading companies in 5G technology such as True 5G and many international companies in the UK pavilion organized by the Department for International Trade, British Embassy at BYOND MOBILE event during 16 – 17 March 2022 at Samyan Mitrtown Hall, Bangkok.
For more information, please visit: www.byondmobile.asia or Tel. +66(0)2 111 6611 ext. 251, 255 (VNU Asia Pacific)