ILDEX Vietnam 2020 show preview, Bangkok – Ho Chi Minh City
Vietnam is one of the best investment destinations in Asia and is the main producer of livestock and aquaculture. Vietnam not only meets domestic consumption, but also exports to many countries. The Ministry of Agriculture and Agriculture and Rural Development of Vietnam reported that the livestock and related sectors' exports were worth US$855.4 million and are expected to reach $1.2 billion in the next year. According to the Directorate of Fisheries, total seafood production in September 2019 reached 733.5 thousand MT, of which capture output hit 251 thousand MT, and the aquaculture volume touched 328.5 thousand MT. This means that Vietnam is the destination that international stakeholders are interested in to expand their markets throughout Asia, and that's why VNU Exhibitions Asia Pacific, with our strong partner, MINH VI EXHIBITION & ADVERTISEMENT SERVICES CO., LTD (VEAS), will organize "ILDEX Vietnam 2020" to provide an international business platform for the Livestock and Aquaculture industries. This show will help you to connect with buyers and to find business opportunities and will be presenting technology and innovation in equipment, machinery, and IT systems from Animal Feed to Farm Processing all in one place.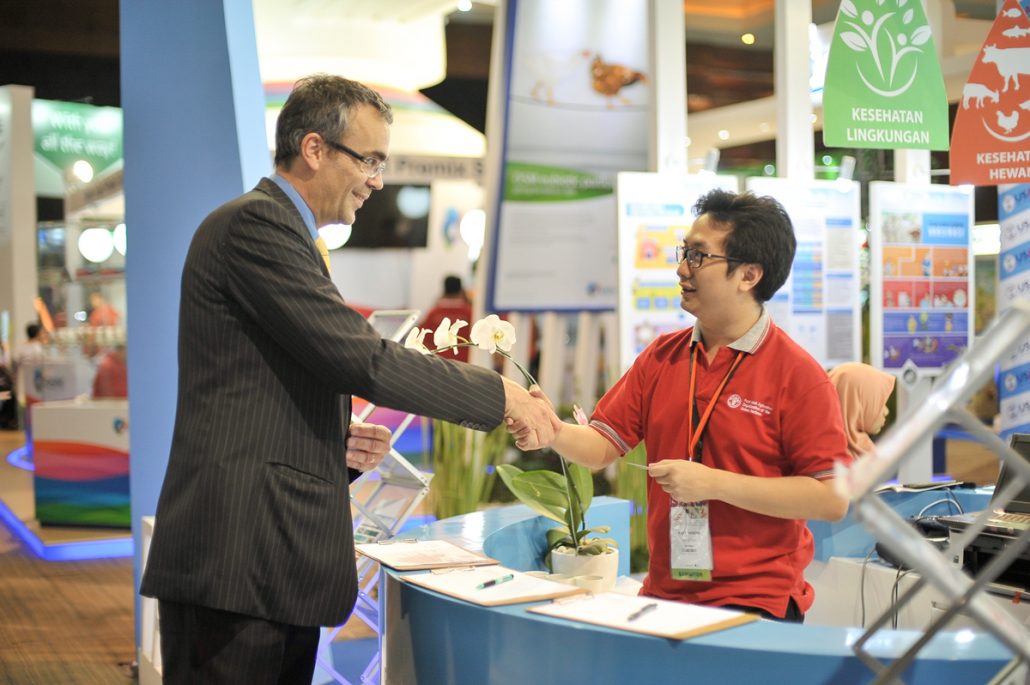 The 8th edition of the International Livestock, Dairy, Meat Processing and Aquaculture Exposition, Vietnam (ILDEX Vietnam), is structured to be an international trade exhibition covering many profiles including pig, poultry, dairy, egg and meat processing.  Top domestic and international companies will be presenting their products to top buyers and industry people in Vietnam. For over 16 years, we have promoted the Vietnamese market as a destination for international investors. ILDEX 2018 attracted 1,924 international participants from 40 countries during the 3 days of the exhibition with more than 100 successful meeting requests. ILDEX Vietnam 2020 will be held March 18-20, 2020 at Saigon Exhibition and Convention Center, Ho Chi Minh City, Vietnam.
EXHIBITION HIGHLIGHTS
ILDEX Vietnam is a biennial International Exhibition focusing on Livestock, Dairy, Meat processing and Aquaculture. The event has proven to be a great opportunity for local and international firms to not only introduce new products, but also get updates on contemporary market trends, see new technology, and acquire new knowledge at the event's extensive seminar programs presented by renowned key speakers. This exhibition builds a marketplace for both local and international industry players and professionals to expand their business through a wide range of highlight activities including International Pavilions, the B2B Matchmaking Program, the Hosted Buyer Program and many more.
Mr. Kevin Zhao, Project Manager of ILDEX Vietnam said that "At ILDEX Vietnam 2020, over 75% of the total exhibitors are international brands, especially from the "Farm Production" segment. We have more than 60 of the world's leading manufacturers to showcase their equipment, which is a distinct advantage of ILDEX Vietnam. Moreover, at this edition, we are pleased to welcome lots of new companies who will be exhibiting in Vietnam for the first time and are ready to share their latest products and innovations with the Vietnamese buyers, such as HUALI, TEXHA, BRODRENE HARTMANN, ROTECNA, INBERG etc. We will host 250 leading companies from 30 countries plus 7 international pavilions from the Netherlands, France, the United States of America, China, the United Kingdom, Italy and the Czech Republic. The exhibition hall will be divided into zones representing four main industrial sectors, Animal Health, Feed Ingredients/Additives, Farm Production and Meat Processing/Handling. A diverse mix of displays and categories will bring leading stakeholders, manufacturers, importers & exporters and professionals under one roof."
CONFERENCE HIGHLIGHTS – 'FEEDINFO'

We [ILDEX] are delighted to announce an exclusive cooperation with Feedinfo, who will be hosting brand new Formulation Briefings at ILDEX Vietnam 2020
Formulation Briefings have been created specifically for Asian formulation professionals and nutritionists from feed mills and integrated farms, and will focus on African Swine Fever, alternatives to antibiotics and cost-effective formulation.
Simon Duke, Editor-in-Chief of Feedinfo News Service explained: "Feedback by our readers on the Vietnamese market is extremely positive. We know this is a fast-expanding, exciting market and we think the opportunities for companies operating in the region are vast.
With thousands of animal nutrition and feed professionals attending ILDEX Vietnam, we felt the perfect way to begin our partnership with VIV was to create an event for these attendees addressing the biggest challenges they face. This new alliance allows ILDEX Vietnam's industry audience to gain the value of being at one of the region's largest exhibitions, combined with the high-level live content Feedinfo is known for."
The briefings will take place on Thursday 19 March and are free for ILDEX Vietnam 2020 attendees. For more information visit www.ildex.feedinfo.com For roundtable, speaking and sponsorship opportunities, contact Ben Cronin at [email protected]
Apart from the global conference partner, ILDEX will offer lots of knowledge conferences for all delegates which are organized by many associations such as Vietnam Ruminant Husbandry Association, Ministry of Agricultural and Rural Development (MARD), Federation of Asian Veterinary Associations: FAVA and more.
For those who are interested to visit ILDEX Vietnam, the online registration is now open at
https://www.online-register.org/ildex/index.php?eh=709
Save the date and see you this March 18-20, 2020 at SECC, Ho Chi Minh City, Vietnam
For more information, please visit www.ildex-vietnam.com or email to
[email protected] Tel. +662 6700900 (VNU Exhibitions Asia Pacific)
————————————————————————————————————————–
For communications, please contact Mrs.Saengtip T. (Rainy)