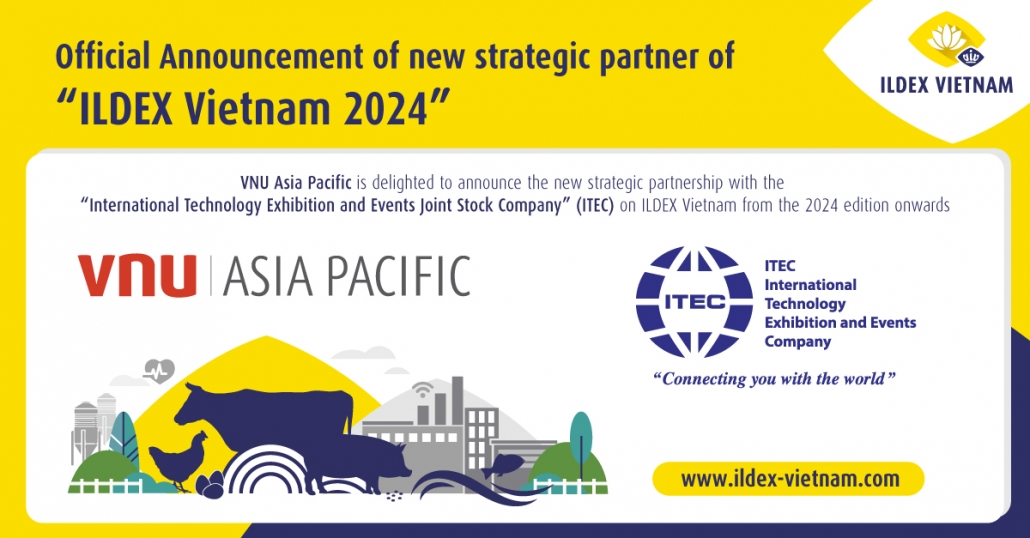 VNU Asia Pacific is delighted to announce the new strategic partnership with the "International Technology Exhibition and Events Joint Stock Company" (ITEC) on ILDEX Vietnam from the 2024 edition onwards.
ITEC is a professional international exhibitor organizer with over 10 years of experience in organizing specialized exhibitions in various industries and also has been acting as the exclusive representative of Messe München GmbH, Germany in Vietnam since 2009. For the upcoming ILDEX Vietnam 2024, ITEC will be taking the role of the exclusive co-organizer in Vietnam and solely responsible for sales and operations of the show in Vietnam. VNU is excited and confident with the growth of ILDEX Vietnam in the coming years under this new partnership.
ILDEX Vietnam 2024 is scheduled 29-31 May 2024 at Saigon Exhibition and Convention Center (SECC) in Ho Chi Minh City. The exhibition will provide a comprehensive overview of the swine industry in Vietnam, which has seen tremendous growth over the years. With over 100+ exhibiting companies from more than 30+ countries, ILDEX Vietnam is the perfect platform for exhibitors to showcase their latest products and services and for visitors to learn about the industry's latest trends and innovations.
VNU Asia Pacific and ITEC believe that with your close cooperation, ILDEX Vietnam 2024 will be a great success.
Sincerely yours,
ILDEX Management Team